Hello runner friend! In this post, we are going to cover some of the best headlamps for running on the market.
I am also going to give you some examples, tips, and different scenarios where a headlamp might come in handy.
Whether you are a road, trail, or ultra-runner, a headlamp is a piece of equipment you will need. It is easy to carry, lightweight, and a great investment for your running gear. You will both benefit from having one.
By the way, it doesn't matter if you are Plant-based or not, this is a topic that pertains to every runner.
As a runner, you must want to have a toolbox. These are different items that are good for you to have when needed. It's time for you to stop buying more running shoes and invest in other running gear. A running vest, waist pack, watch, handheld, headlamp, etc… Trust me, you will need them.
The more time you spend running, the more you are going to realize that there are certain items that one must have for different kinds of runs, environments, or races.
In this post, we are going to talk about Headlamps. This piece of equipment is very important. You may be thinking that you have gotten along just fine without it. But if you are here is for a reason, and the right one at that.
I want to make a state that I am not saying it's mandatory to have one. What I mean is that you can start little by little by adding running equipment to your possession. However, if your plans are to run ultra races, then you will have to get one.
Like you, I spent several months without one, until one day I was invited for a very early trail run. Everything was pitch dark and I had to sit that one out.
I remember asking a friend to lend me his headlamp a couple of times before I was able to afford one. One of the things I like about this sport is that builds a community. Reach out for help. Chances are that your friends are not signing up for the same races as you are, so they can always lend you gear.
That being said, try to make an effort to start buying your own gear. It's great to have your own stuff. It is no fun to be out there trying to run and struggling to see where you land and where you are going.
I found that training for a race while having a job like most of us runners who are not elite do, it's quite hard. Some days you will find yourself with a lot of work and be forced to go for a very early or late run. In both cases, a headlamp is your best ally.
It doesn't matter if you are going for a run in your neighborhood. Bring your headlamp along, it is a game changer. Even if you don't use it, just bring it. You can put it on your wrist, as a bracelet, on your head ready to go, or inside your running belt. If you don't have a running belt I strongly recommend getting one, it has saved my phone's life a lot of times.
Tips
Tip #1: Always bring an extra headlamp for longer runs. You can store it on your running vest, and in case your main headlamp runs out of battery, you are ready to go. I have found that replacing batteries while you are trying to run, it's frustrating. Also, if it's pitch dark, you might drop stuff on the floor. It's no fun to look for something on the floor while it's pitch dark.
Tip #2: Buy a battery charger and rechargeable batteries. They are a great investment. You will save a lot of money with this.
Tip #3: I only use rechargeable batteries for training. I try to always bring new batteries for races. Remember that some races might ask for a specific number of lumens from your lamp. Make sure you follow the rules.
Tip #4: If you signed up for a race and you have never run while using a headlamp, you MUST practice before the event. I made the mistake of not practicing before an ultra, and I had a bad time trying to adjust it while running.
Best headlamps for ultra running
1. Black Diamond 400 Spot
I specifically used this Black Diamond 400 for my first ultra trail race, and to be honest, it is amazing. The race I signed up for had a 400-lumen minimum mandatory headlamp. I used it for 2 hours on the brightest light, the one that burns more battery, and I didn't have any problem. It is easy to manipulate.
Remember to try everything before race day!
Pros:
Light
Easy to replace batteries
Price
Water Resistant
Different brightness
Cons:
3 AAA batteries
Expensive to buy new batteries
Not fully waterproof
Gave me a headache
2. Petzl Actik Core 450
This model is one of the most bought lamps in the market and for good reason. It's very good quality and has a long life. It has 50 lumens more than the Black Diamond. If you prefer to see a bit brighter, then this is a great lamp for you, although it is a bit more expensive than the Black Diamond.

Pros
450 lumens (more brightness)
Rechargeable CORE battery
Can use AAA batteries
Practical/Easy to use
Water Resistant
Cons
More expensive than Black Diamond
Need to charge the battery
Expensive to buy an extra battery
3. Ultraaspire 600 lumen
Technically this is not a headlamp, it is a waist light, however, I am putting it on this list because it is great. This waist-light stream of light will come directly from your hips. This is a little bit different if you are used to headlamps. It might need a bit of use before you fully adapt. However, a lot of people find that these kinds of lamps are way better than the ones that go on your head.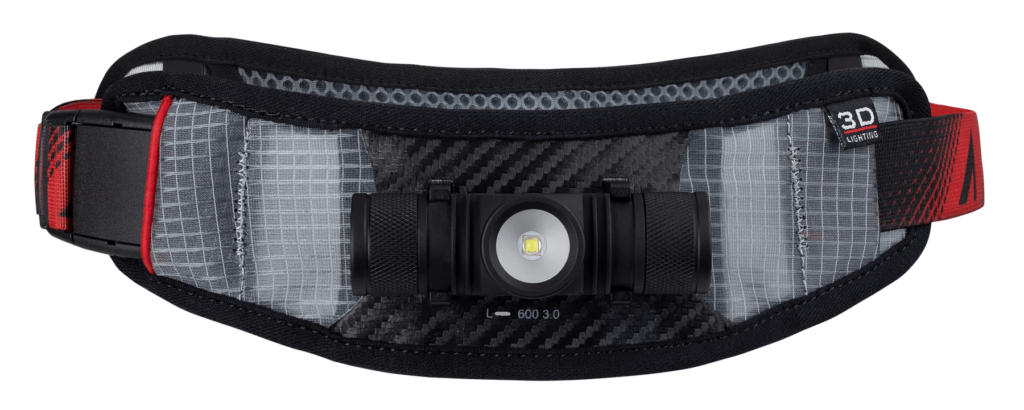 Simply by not wearing the strap on your head, and having it around your waist, it might be more comfortable. I have found that I get headaches from wearing a headlamp for too long.
Also, as a plus, you can wear a headlamp and a waist-lamp at the same time, making your night run even better.
Pros
No headaches
Can turn your head while having light in front of your body
Different view(More shadows)
The battery is easy to replace
Can wear a headlamp simultaneously
Cons
Strap seems weak
Very expensive
Need to turn your whole body for light
Conclusion
I am aware that there is a lot of information out there and sometimes it gets a bit too overwhelming to find a good review. That's why I have decided to help you make a better decision based on simple these simple facts.
If you are still undecided, or if money is a problem, you can go for the cheapest one, they are all good headlamps and you will not regret any decision. The only thing I urge you is not to rush and buy a cheap lamp just because you needed one ASAP. If that is the case, you can try asking a friend to borrow you theirs. Otherwise, try making an effort to invest in good quality gear.
If you need a headlamp for any race, marathon, or ultra, don't hesitate on these models.
I really appreciate you stopping by my blog and reading this post. I hope you enjoyed it.
Let me know if you buy a headlamp and how is it working out for you.
Gibran.