Hello runner friend, and welcome to my blog! It's hard to find the best device for listening to music while running.
That would mean you would have to purchase every device out there and try it. Let's be honest we don't have the money, time, or inclination to do so.
Relax and sit back because, in this post, I will talk about one of the best headphones for running in the market.
Whether you want to include music on your short runs in the city, doing some trail running, or even if you are planning to run your first ultra-marathon, I have got you covered.
A few years back, I couldn't even go for a jog without having music. I remember having an iPod touch, which only helped for music because you needed a pedometer that connected via Bluetooth to see how much you had run. It was brutal.
A few years back, music was such an important part of my run. However, when I began truly running in 2022, I went for a run without headphones, just me and my thoughts, listening to my feet striking the ground. When I finished the run, I noticed that I felt very good, calm, and at peace with my mind, like some kind of therapy.
I want to tell you that you can enjoy a run with and without music. Sometimes you need a peaceful run, alone with your thoughts. Maybe you are going to be passing through a crowded place and need to be aware of your surroundings, and some other times you want to blast some music to pump you up.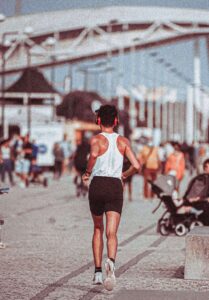 Pro Tip #1:
If you are just beginning to run, I highly recommend that you start with no music. Just so you can listen to your breathing and your feet, sometimes we strike the floor hard and it could get us injured. I am not saying is a must, but I would advise that you listen to your body.
I went 4 months of training for my first marathon, without music. At first, it was hard not to listen to anything, but then I got used to it and even enjoyed it. I ran the marathon also with no music. Listening to the crowd while you are trying to run 42k (26 miles) is quite encouraging and motivational.
Nowadays I enjoy going for long runs while listening to music. Some other times I do some tempo runs with a good playlist for some extra motivation. It's about finding the right balance, and doing what you like.
Best device for listening to music while running
Shokz
These are one of the best running headphones on the market. To me, these are the best device for listening to music while running. They are so light that you forget you are wearing them. Also, they have a great sound definition.
The Shokz work in a different way than regular earphones, they are powered by bone conduction technology, which allows for total awareness of your surroundings. They work through vibrations (I don't know exactly how they work) it's like magic and it's really cool.
They come in different models and colors. The "Openrun Pro" and "Openrun". They both are amazing, if you have the opportunity to get the Pro version, do so. To be honest you will not be disappointed by any of them.
I have the "Openrun" model. These are the top seller and for a great reason. They are wireless. You can pair them with your phone, or with your watch (if they have music).  I just love having my hands free while running. Changing songs, and answering phone calls are also very easy to do while on the run.
If you are one of those people who forgets to charge your electronic devices before using them, don't worry, these Shokz headphones have a feature that you can charge them for 10 minutes and will give you a solid 1 hour plus of usage.
If you don't feel like running, you can also use them for watching movies without disturbing your significant other. This is a plus for me. I have found that working out with them at the gym is not very comfortable, however, they are a great addition to your running toolbox.
My experience
As I said before, I have the Openrun Shokz. I wore them to my first ultra. I was out there for so long that I needed an extra boost of my favorite songs to keep me going. They are so light that I completely forgot I was wearing them. Also, I called my family a few times to get some encouragement from them.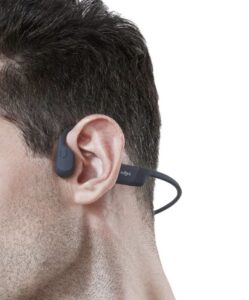 The best part for me is that because they are not inside your ear, you can listen to what's happening in your surroundings. For instance, runners passing you by, a car driving very close to you, a cyclist speeding next to you, a person cutting you off, etc.
This feature allows me to listen to some music while going on runs with friends. One of the things you can't do if you are wearing regular headphones. You can also take phone calls. They are a great piece of equipment that every runner should have.
Compared to other devices
Great fit (forget about them falling off)
It's only one piece
No bouncing
Water-resistant
Aware of surroundings
10 min Quick Charge
Other options
iPod earphones
If you can't afford to buy your Openrun Shokz right now, I recommend you use your iPhone earphones (In case you have them). They are of great quality. Sometimes it's uncomfortable to be running while struggling with the cord, but once you manage it's doable. They are also very accessible, price-wise.
No music
Don't be waiting on headphones for going outside and start running. One of the prettiest things about this sport is that you can go back to basics and it's still pretty enjoyable.
Remember that every run is an opportunity to connect with your environment, to yourself, and to be grateful.
Pro Tip #2
If you like to play your playlist before the run, and then put away your phone for the remaining of your training, I highly recommend you to get a fanny pack or waistband.
Having a place to store your phone is a must. Put your phone on the running waistband, it will be super safe and also you will have both hands free. Most running shorts are too uncomfortable to use while holding your phone.
I have found that having my hands free while running gives me so much more freedom. I don't like to put my phone in my shorts pockets, mostly because of all the bouncing. When you have a running waist band it gives you the freedom to have your hands ready, in case of falling or having something to eat, or just to waive your hands to the rhythm of the music.
Thank you for reading!
Remember that everyone has their process. Enjoy yours!
This post showed you the best device for listening to music while running.
You may also like: