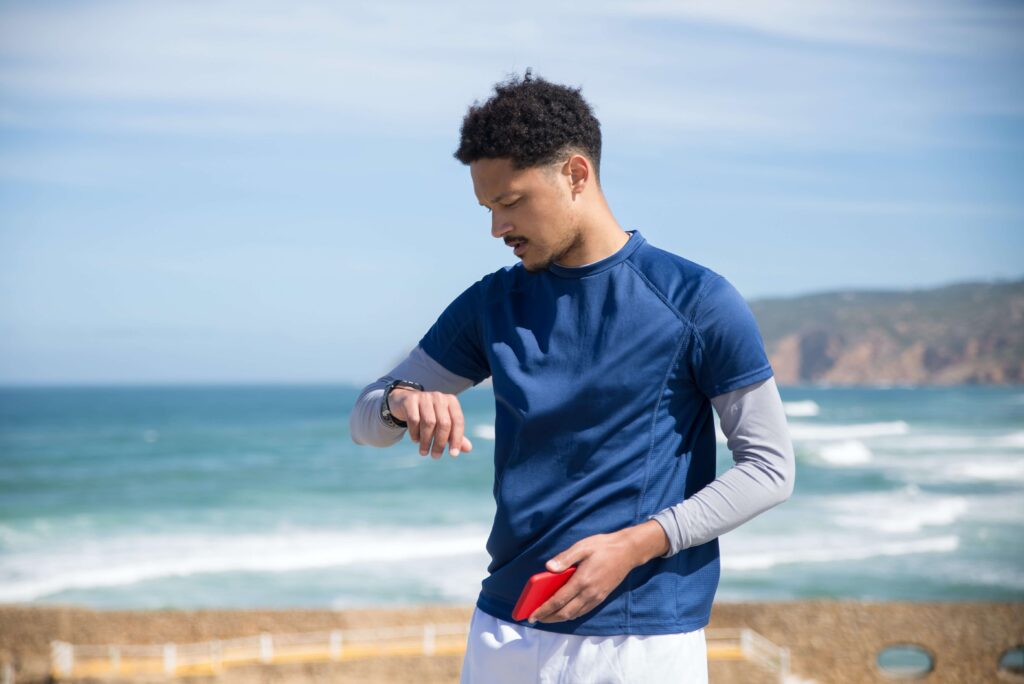 Hello runner friend! In this post, I am going to share with you 4 of the best watches for trail running in the market (For me). There are many great options out there, very good brands. Today, I will specifically talk about some watches from the Garmin brand.
Everything that is written on this website, it's based on my own experience, and recommendations/advice from many runner friends that I have. There are many people out there who will claim "This is the best interval running watch" or "This is the best watch for Strava", I think that they mean "for them". Always try to look for different reviews on the same product so you can make an informed decision.
There is something very cool about going out for a run and coming home to see your stats. I know I sound like a geek, however, there is no shame in watching your data, analyzing it, looking for improvement areas, and seeing the progress you have been making through hard work.
It feels so cool to find a running community that supports you on your running journey. I suggest finding a group of runners close to your neighborhood or in your city that you can join. Don't be afraid to befriend them on Facebook or Instagram, most of them will be happy to have you.
I want to tell you that a watch is a great tool for a runner to have. However, it should not be your only method for evaluating yourself. Remember that GPS watches are not 100% accurate, they just give you an estimate. Also, there are other indicators for you to know if you have been improving.
Fitness Indicators
The best indicators for knowing you have been making progress on your running fitness:
Being happy and excited about your daily run
Feeling better after your runs
Faster recovery times
Running for longer
My path to owning my first Garmin
For many months after I started running, I didn't own a watch. I struggled trying to calculate my pace, based on my time and rough distance estimations. Sometimes I was using my phone for recording my run and to see my pace, but I didn't like to be staring at the screen while running.
It was until months later that as a Christmas gift, my parents gave me a Garmin Forerunner 45s. This is the best Christmas gift I have ever received, by the way. This Watch is one – maybe the cheapest- of the most price accessible from the Garmin brand.
As soon as I started tracking my runs and data with a watch, I could see where I could improve, and I started to develop training sessions in advance. Overall, I started becoming a better runner.
Looking at your data can be very exciting, but you have got to be careful not to compare yourself with others. This is very dangerous because you might get depressed that you are not progressing in comparison with others. You have to be aware that you are doing this for yourself and nobody else.
I remember when I used to run with no goals or a plan (just for the "fun" of it, or because I wanted to be fit. I would always hit the same pace, without knowing so of course, and I got frustrated that I couldn't improve.
Best watches for running and trail running
1,-Forerunner 45
The Forerunner series from Garmin has different models, all of them are amazing, and they vary in features each model has. Like most things, the most expensive one is the best of them. However, that doesn't mean it is ideal for you.
I ran my first ultra-marathon with this watch.
The Garmin Forerunner 45s was my ally for many months. I ran a 35k trail race with no problem, my first road marathon, and my first ultra-marathon (50k). However, being an economic watch, it doesn't have many important things for me, like following a route on your watch, and a good battery life.
I was so sad that the battery of my Forerunner 45s died on my ultra-marathon, because now I don't have the exact information of my run, and that run, being my longest one, was not recorded on my Garmin and Strava apps.
As I said earlier, the battery died on me in the 40th kilometer. However, it lasted about 6 solid hours. Some people said I should've carried a portable battery to carry on the go. I have never done this, but it sounds like adding more weight to my running vest.
To me, this could be the best interval running watch there is. In that, it's very light, the numbers are big, and the intervals are programmable in advance.
Who is this watch for?
First time owning a Garmin or sports watch
New to running
Looking for an affordable watch
Use a cheaper watch for training
Runs shorter than 3/4 hours
Interval Training
Who isn't this watch for?
Planning on running an Ultra
Want to follow routes
Want more battery life
Want a bigger watch
Best watches for running and trail running
2.-Fenix 6 Pro
The Fenix series from Garmin is one of the best running watches for running on the market. I have the Fenix 6 Pro and I have got to say, I think it's the best watch for trail running, hands down.
If you have the budget I recommend you see the differences between the Fenix 6 and the Fenix 7. It might be worth it for you to upgrade.
For me this is the best Garmin watch there is.
It has a lot of useful gadgets for the trails. You can upload/follow a route, and see the vertical gain and vertical descent, while on your run. Amongst many others.
This watch has helped me record my trail runs and be aware of the elevation gain of my adventure. This latter is quite good for when you want to prepare for a Race that has a certain amount of vertical gain.
For instance, with the Forerunner I was not able to see my vertical gain and descend until my run was done and uploaded to the Garmin app. However now If I need to go out on the trails and do 2000ft of elevation for my training, I can just monitor my watch until I do so.
I forgot to say that this watch looks very cool on you even if you are not wearing sports clothes.
Who is this watch for?
Running ultras
Trail Running
Experienced runner
Looking for a watch that lasts many years
Long trail runs
Stylish sports watch
Who isn't this watch for?
Beginner runner
Not a runner
If you are broke
Other great watches for running and trail running
There are many other watches worth checking out, however, I haven't personally used them. You can't go wrong when investing in a Garmin watch. Some of them are:
Garmin Solar Instinct 2
Garmin Enduro
Conclusion
Whether you want to run on trails or in the city, a watch is a great tool for measuring the stats on your run. Remember that the information that this device provides is just an estimate, no watch is 100% accurate. So always rely on yourself to know how are you feeling and doing.
I hope this article has helped you in any way shape or form. Let me know your thoughts, and luckily we will see each other in the trails.
Remember that everyone's process is different. Do all the research you can, try what you want, take what works for you, and discard the rest.
Thank you for reading!
This post showed you the Best watches for running and trail running.
You may also like